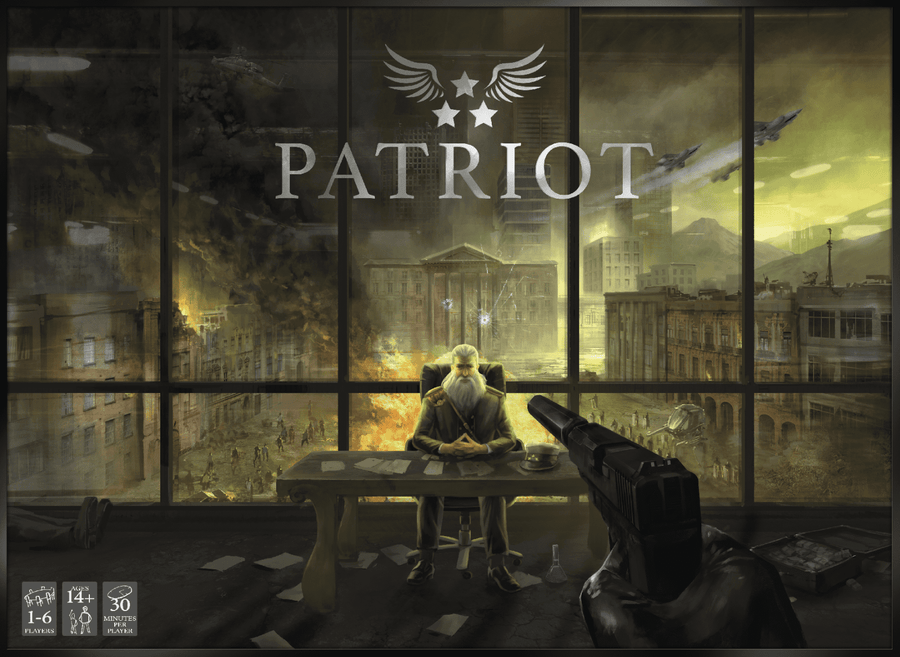 Patriot
Co-op meets Social Deduction
Regular price

Sale price

$89.99 USD

Unit price

per
***FREE SHIPPING on all orders over $99***
If you are outside the US and wish to place an order, e-mail marc@grandgamersguild.com
Are you ready for a social deduction game filled with betrayal, riots, and a campaign mode?

"Ladies and Gentlemen, I have asked each of you in this room for a purpose. It is with grave urgency, and top secrecy that I request your time, your assistance, and your loyalty. I ask that you save our nation, and in turn save my life…" – The President


On the brink of civil war, The President of Karmonia has been given five letters from an assassin, each marked with a day. It has been made clear that if the President does not meet each of the assassin's demands, there will be dire consequences resulting in the death of The President.
Five letters. Five threats. Five days to die.
Patriot is a semi-cooperative board game of social deduction, betrayal, strategy and teamwork for 1 to 6 players. Each player is dealt a secret card outlining their allegiance to The President – save, or assassinate. Through the midst of this, the country of Karmonia is in turmoil. It is up to you and your team to find the assassin whilst maintaining the country through a number of difficult missions!
However...! If you are the assassin, it is your mission to sabotage, betray and secretly manoeuvre the game in your favour, resulting in the assassination of The President and the destruction of Karmonia. Just don't get caught.
You can also upgrade to the deluxe version here which includes neoprene playmats, metal coins, a dice tower, art, pin, and upgraded components. How to Play:

PLAYTHROUGH: